Our Values
Patient Education
Patient education is an important part of the services we provide. A key part of preventing a health care problem from progressing is being aware as to how they can develop. We talk with our patients during their exams, and have a ready supply of patient education materials to reiterate what was discussed during their exam.
Dedicated Excellence
High standards of excellence are in every aspect of our practice. This includes the care we provide, state of the art equipment we use, the health and safety protocols we follow, and the incidental services we offer. Above all, our aim is to provide each of our patients with an optimal Texas experience. Bryan/College Station, Texas is our home. Texas values mean we are your neighbor!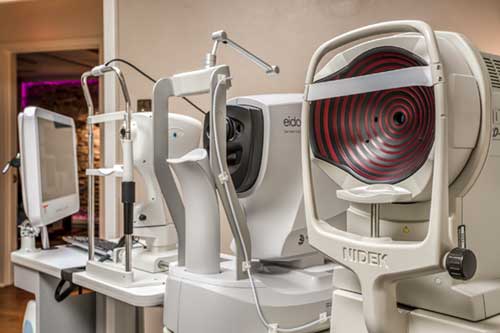 Specialty Services
We specialize in vision services for pilots, athletes, sportsmen, golfers, and people with visually demanding activities. We're familiar with the visual demands of pilots and shooters and will complete your FAA 8500-7 forms and CDL documents. We test eye dominance, prescription, and magnification power required for the best vision through sights for archers, hunters, and law enforcement.
Our Focus
We FOCUS on quality and precision to ensure that OUR PATIENTS maintain the best VISION possible.
Meet the Staff
Amber
Optician
Jaylei
Technician
Theresa
Technician
Shelbie
Optician
Tracey
Optician
Rebecca
Director of First Impressions
Linda Simpson Goolsby
Lead Optical Consultant
Best Eye Doctor & Optometrist in Bryan, Texas
Eyes Of Texas is located in a well-known local landmark – the charming standalone stone clocktower building on 2320 E. Villa Maria Rd, Bryan. From Easterwood Airport (CLL) head northeast on McKenzie Terminal Blvd toward Easterwood Service Rd and continue onto Frontage Raymond Stotzer Pkwy. Then continue onto Turkey Creek Rd and turn right to stay on Turkey Creek Rd. Next, continue onto F and B Rd and turn left onto Farm to Market Rd 2818/Harvey Mitchell Pkwy S. After that, turn right. Finally, use the left 2 lanes to turn left onto E Villa Maria Rd and Eyes Of Texas will be on your left.
For additional information, you can call or text us at 979-77-TEXAS (979-778-3927) or you can find us on Yelp.